For the patch itself, see March 18, 2010 Patch.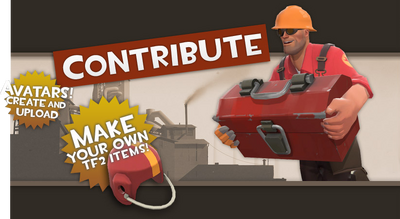 "

In the past we've shipped features that came from community suggestions. Now we've taken it one step further: we're shipping game content that was directly built by the community.

"
―TF2 Official Website
The First Community Contribution Update, also known as the First Contribute Update, was the in-game release of several items that were selected by Valve for outstanding quality through the contribution page (now replaced by the Steam Workshop). Released with the March 18, 2010 Patch, the update added a total of 3 new weapons and 9 new hats.
Ad blocker interference detected!
Wikia is a free-to-use site that makes money from advertising. We have a modified experience for viewers using ad blockers

Wikia is not accessible if you've made further modifications. Remove the custom ad blocker rule(s) and the page will load as expected.