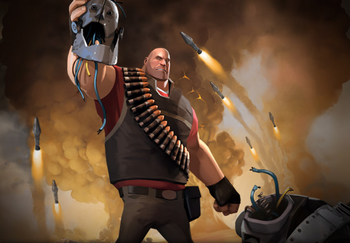 Mann Up is the official version of the Mann vs. Machine game mode that allows players to receive items upon finishing a mission. The mode is accessible only by owning a Tour of Duty Ticket, a tool that allows entry into official Mann Up servers, which is consumed upon finishing a mission. A Squad Surplus Voucher is presentable as well, giving all players in the game an additional item upon completion of the mission, including players who did not present a Squad Surplus Voucher of their own. Like regular Mann vs. Machine, random drops are obtainable, and the Power Up Canteen is obtainable and usable. Any weapon is usable with no restrictions. One tour of duty ticket is used per game, and a ticket is given along with a botkiller weapon when a mission has been completed enough times.
Ad blocker interference detected!
Wikia is a free-to-use site that makes money from advertising. We have a modified experience for viewers using ad blockers

Wikia is not accessible if you've made further modifications. Remove the custom ad blocker rule(s) and the page will load as expected.