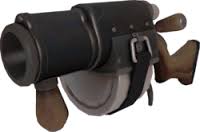 -0.2 second bomb arm time
max charge time decreased by 50%
-15% damage penalty
-25% clip size
bombs fizzle 2 seconds after landing
Play Style
Edit
This weapon is for a more aggressive playstyle with your Demo Man secodary. The faster arm time allows you to detonate your bombs quickly in close range situations. With a close range primary this weapon is useless but if you use a stock launcher for spamming or better yet the Boot Legger, you can rely on this weapon. The best class is with the BootLegger in my opinion and it is great for assault.
Ad blocker interference detected!
Wikia is a free-to-use site that makes money from advertising. We have a modified experience for viewers using ad blockers

Wikia is not accessible if you've made further modifications. Remove the custom ad blocker rule(s) and the page will load as expected.